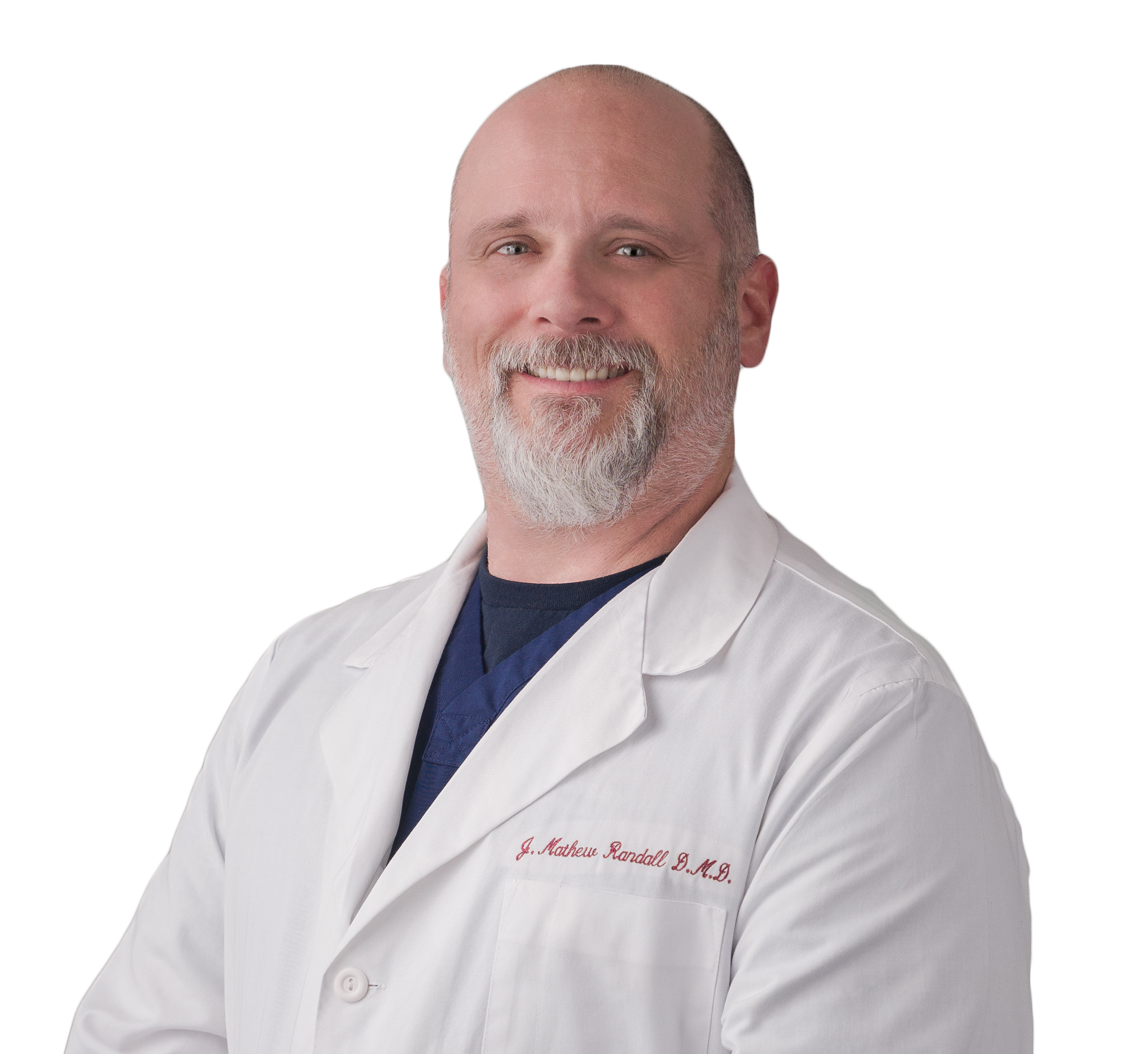 Graduating from the University of Mississippi, Dr. Matt Randall has been a family dentist, working with children and adults, for over 25 years. He currently runs his own practice, Randall Family Dentistry, in Prairieville, Louisiana. He is devoted to his wife and family of four children. In the true family atmosphere style of Dr. Matt's office, you will find hand painted portraits of each of his family pets: Rosa, the cat; Chase, the Golden Retriever; and Ned, the guinea pig. Each portrait was lovingly painted by his talented wife, Nicole.
Being trained in a rural environment, Dr. Matt provides many of the specialty services that a lot of other dentists refer out. Patients do not need to wait to book an appointment with a specialist. Root canals, wisdom teeth extractions, and implants are performed painlessly with conscious sedation as needed within Randall Family Dentistry, offering a one-stop-shop for all of his patients' needs. His office is consistently updated with the latest dental technology allowing the patient to experience the best treatment available in both modern dentistry and comfortability.
Dr. Matt originally attended Millsaps College to become a doctor. He learned from colleagues that becoming a doctor was more about managing people's problems. He desired a career in which he could fix others' problems and not just manage them. He soon discovered that dentistry gave him all that he wanted in medicine and he could not only manage problems, like TMJ (Temporomandibular Joint Pain), but he could also fix problems, like cavities and broken teeth. Dr. Matt has designed a psychological program designed for people who are fearful. He builds trust with his patients, which changes the outlook that many have about going to the dentist. Dr. Matt's passion is the type of dentistry that places the patients and their needs first. To this day, Dr. Matt is thankful to be in a career in which he can fix patients' issues. "I found my passion. I like to work. I like what I do. I like caring for others."
Let's Change the Fear of Dentists
You don't have to be afraid to go to the dentist. There is no need to see someone new for every service. Specialty services can be performed in our office. Everything I do is designed to be as comfortable as possible to the patient.
"I had a patient, who told me she could not go to the dentist without crying. I have a psychological profile to help with these anxieties. I don't even see that person anymore."